ShaSimone Unleashes Fiery 'Next Up?' Freestyle
---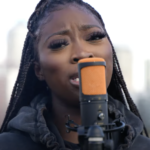 Published date: November 25 2021

ShaSimone has followed up the release of her latest single, "Hushpuppi", by blessing her fans with a Next Up? freestyle!
As always, ShaSimone drops some quality bars in this freestyle and the first part of the session sees her utilising a soulful drill instrumental – which she easily slides on with a robust flow. Afterwards, the beat switches to an emotional rap instrumental where she spits about the struggle and pain she's been through in her life.
ShaSimone has stayed consistent throughout 2021 and it'll be interesting to see what she has installed for the remainder of the year and beyond.
Make sure to check out ShaSimone Next Up? freestyle above!