Monét & OG KEMi Deliver Smooth Vibes On "hunnitdegrees"
---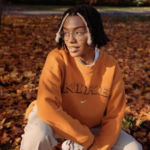 Published date: November 24 2021

Monét has enlisted fellow Londoner OG KEMi to create a brand-new single titled "hunnitdegrees".
Produced by GYPTXVN, this collaboration is a laid-back but vibey one that will definitely mellow you out as soon as you hit play. Monét leads the track with her delicate vocals, before OG KEMi serves up his contribution in the form of a slick verse.
"This song is about channelling your feminine energy, owning your shxt and straighttttt flexin'," Monét said of the song. "There's no other way to put it lol. It's about living your life exactly how you want without caring what others think (especially men haha)."
"hunnitdegrees" serves as Monét's third release of the year following "Just One Of Those Days" and "No Words" and with an EP set to drop in 2022, we can only expect the rising south Londoner's upward trajectory to continue in the new year.
Make sure you take in the smooth sounds of "hunnitdegrees" below!