Jordy Drops Cold Freestyle On Revolt's 'Rap In Paper' Series
---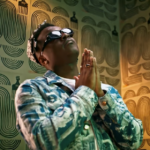 Published date: October 13 2021

Jordy has been building up his name in the rap game in recent times and in this new Rap In Paper freestyle on Revolt, he shows exactly why you should be looking out for his music!
Over a smooth beat, the north Londoner demonstrates his ability to tell a story while switching up his cadence and giving some cold bars – effortlessly flowing over the beat to make the freestyle even more impactful.
Instead of just putting a words together to show how technically good he is, he uses his past experiences along with some clever wordplay to spit with great substance throughout. This isn't just your regular freestyle. This is real rap.
Make sure you tap in and check out the Rap In Paper freestyle above and to see Jordy's fun visuals for "Feel Right Now", click right here!