Dotty Enlists WSTRN To Celebrate Windrush Day On Special 'Blackout Radio' Episode On Apple Music
---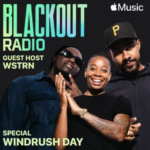 Published date: June 22 2022

With today being Windrush Day, Dotty has gifted us with a special episode of Blackout Radio on Apple Music to celebrate the occasion!
During this special show, Dotty explores the Windrush generation's influence on British music and culture, playing a selection of songs created between 1948 and the 1990s to highlight how those sounds have shaped music today.
We also hear Dotty chop it up with west London trio, WSTRN, who speak on being descendants of the Windrush generation, incorporating their heritage into their music and more.
Be sure to take in the new episode of Blackout Radio below!